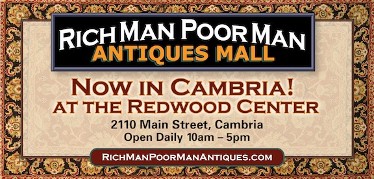 RICH MAN POOR MAN ~ Pet Friendly!
2110 Main Street, Cambria, CA 93428 ~ 805-203-5350 ~ Open everyday 10 till 5.
Browse our many dealers on the large main floor and our unique second floor RMPM Loft. You'll find those special antiques and collectibles that Rich Man Poor Man is known for! That's why we're one of the favorite antique mall experiences on the California Central Coast! Start your "quest" for that perfect treasure at Rich Man Poor Man Antiques Mall.
Also, ask JoAnna or Myles about our other services: Appraisal Service ~ Estate Sales ~ Furniture Refinishing!
Here's what you'll see when you walk inside our front door. Yes ~ it's 17th Century, French. An amazing tapestry!